A BRIEF HISTORY OF TOWN HALL
---
"You're nobody 'til everybody in this town thinks you're poison
Got your number, knows it must be avoided
You're nobody 'til everybody in this town thinks you're a bastard"
Elvis Costello, "...This Town..."
---
In the year of 1995, the Washingtonville, NY school district continued to receive the spawn of New York City cops and firemen who had moved upstate in order to gain something vaguely referred to as a better way of life. It was and is a place marked by little social dissent or conflict. With absolutely no precedent, the area would hatch two bands the likes of which the town had never seen - THE PROM KINGS and THE GYM TEACHERS. Each band was highly unprofessional and hoped to singe Washingtonville with angry and spiteful punk rock. THE PROM KINGS - Bill Tone, Ryan Shannon and Kevin Roche; and the GYM TEACHERS - Adam Callan, Matt Callan and Steve Roche, had all felt the scorn of their peers for too long. Continually looked upon as 'weird' by their classmates, they fought back with the only weapons they knew how to weild - guitar, bass and drums. Despite not setting the world on fire - both bands collectively had two gigs before disbanding - they were the sparks that started the fire we know now.
In early 1996, the unthinkable happened again - two bands formed simultaneously. Bill Tone, Kevin Roche and Steve Roche became GOD AWFUL and Ryan Shannon and Adam Callan recruited a certain Joe Eubanks from nearby Goshen to become DISCLAIMER. This time, the weapon of choice was hardcore of the old school variety, with each band making original variations on previous themes. Meanwhile, two stalwarts from Burke (the local Catholic school), Kevin Halpenny and Matt Sheret, formed EBS. Their weapon of choice - hard driving pop-punk no one could beat. It became apparent to these pioneers that, for the good of mankind, this music must be preserved. A name was chosen - TOWN HALL - and record label was born. A dark specter loomed on the horizon - Mike Shaw of State of Alarm, who accentuated GOD AWFUL and DISCLAIMER on bass and guitar respectively. All three bands gigged extensively throughout the year, developing a small but loyal band of followers. TOWN HALL - THE VENUE was built in the course of one weekend in the Shannon garage to provide a forum for musical progress. Many shows were staged and it was good. During a gig in Warwick, the boys from DISCLAIMER were approached by the boys in the hard hitting pop-punk group WAZOO, who were so impressed by their performance that they demanded to be a part of the Town Hall family immediately.

Sadly, 1997 saw the break-up of DISCLAIMER after a show in Syracuse. All was not lost, however. Matt Callan, a Town Hall hanger-on since GYM TEACHER days, joined forces with Shannon, Eubanks and his brother Adam to create RECORD IGNITE!. Their goal: to add other worthy musical elements to punk to create hardcore soul! EBS gained Josh Giunta on drums, after using Joe for interim purposes. 1997 also saw a serious increase in Gestapo tactics perpetrated against Town Hall by local law enforcement officials and supposed fellow musicians alike. Town Hallhas unequivocally refused to back down, especially in the wake of its first official release, THE PROM KINGS 7" - MUSIC TO PASS A STONE BY.
---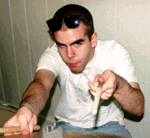 As of this writing, Town Hall is home to seven bands, two of whom are deceased (not counting the numerous side projects that spring up relentlessly). the three principal figureheads of Town Hall are Bill Tone, Ryan Shannon and Kevin Roche. Bill Tone is universally accepted as the Town Hall Godfather, while Shannon and Kevin reign as lesser capi. The rest of Town Hall is relatively equal in standing, with each member specializing in their own area of business: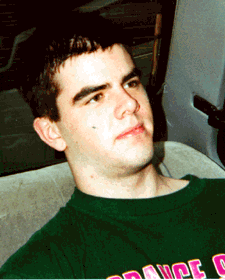 STEVE ROCHE: recording expertise, intensity and connections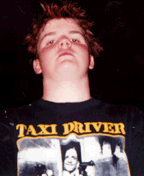 ADAM CALLAN: good natured ribbing and beast-like feats of strength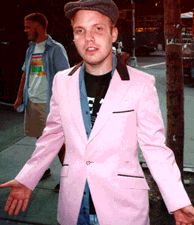 MATT CALLAN: scene chronicler, verbosity
JOE EUBANKS: old school skating

MIKE SHAW: evil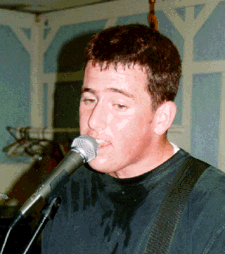 KEVIN HALPENNY: cold Dew and dry wit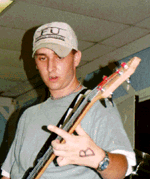 MATT SHERET: phrase coining and hand crushing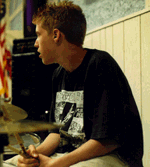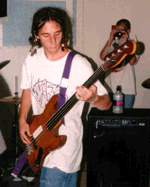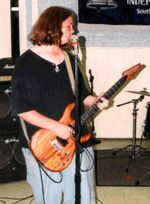 THE WAZOOS: teen appeal