\
---
TOWN HALL ETHOS
---
"Following someone else's 'ism' is the same as swallowing someone else's jism."
This tidy rhyming phrase was coined in 1994 by Matthew Callan in order to point out that all formal ideologies involve the ingesting of the by-products of someone else's mental masturbation. Town Hall, as a record company and a group of musicians, does not believe in labels. It looks suspisciously upon those who wear them, knowing how easily they can be removed and replaced. Town Hall realizes that the denial of ideology is in itself an ideology. To avoid this catch-22, it sets no offical party line. Members are free to agree or disagree with each other as little or as much as they like. HOWEVER, there are some common misperceptions among the masses that Town Hall is dedicated to destroying.

1. ANGER IS A DESTRUCTIVE EMOTION - the urge to destroy is a creative urge (Bakunin), therefore anger is also a creative emotion, when released appropriately. Anger only destroys those who can not release it in healthy arenas; say, rather than playing mus ic, instead beating the shit out of people or becoming a postal worker.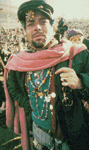 2. CREATIVITY/ORIGINALITY USUALLY RESULTS FROM EXPERIMENTATION WITH DRUGS/ALCOHOL - Town Hall is not about telling people what they may or may not do in the privacy of their own homes. BUT the notion that something that sounds 'new' must have sprung out o f a bong or a bottle is preposterous. It is sad that the public is so used to mediocrity that originality - 'weirdness' - can only be thought of as coming from less-than-aware minds. Music that truly results from such endeavors is usually puerile and poin tless - witness the Grateful Dead.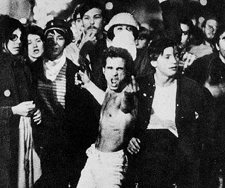 3. IF YOU DON'T LIKE WHERE YOU ARE, LEAVE - this attitude is bullshit, pure and simple. Town Hall is fully aware that it is loathed by the larger population of the area it inhabits (Orange County, NY). We don't care. Or we care too much. We stay because w e feel the poor souls here need it the most. No problem is ever solved by running away.
AND THAT IS IT. TOWN HALL IS ABOUT MAKING MUSIC. PERIOD. NOTHING ELSE NEEDS TO BE SAID. WORDS ARE AIR. MUSIC IS ACTION. IF YOU LIKE US, PICK UP A GUITAR AND START DOING IT YOURSELF. IF YOU DON'T LIKE US, GODSPEED. HAVE A NICE TIME